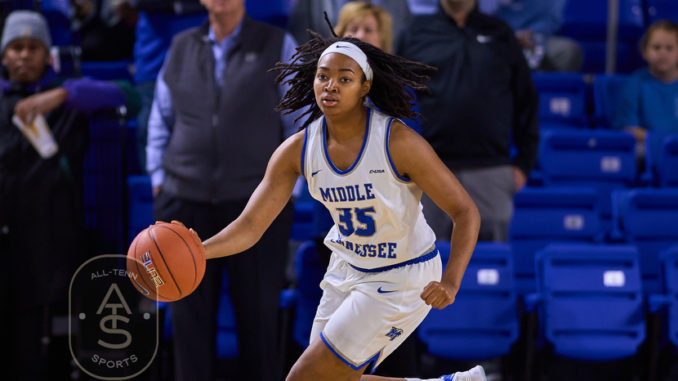 TONY STINNETT, MT Athletic Communications
MURFREESBORO, Tenn. – Charity Savage aspired of capping a sensational season with a Conference USA Championship.
There was every reason to believe her goal could become a reality based on the manner in which her Lady Raiders (21-9) were playing entering the C-USA Championship in Fricso, Texas. Middle Tennessee entered the tournament having won five of its last six and nine of 11 overall, including key wins against WKU and at Charlotte.
"Our team was focused and we all had our eye on the ultimate prize," said Savage, Middle Tennessee's lone senior. "You kind of got the feeling that everyone was playing for one another and for the same goal in those last couple of weeks. Everything was clicking for us."
Middle Tennessee was minutes away from beginning the C-USA Championship experience. The team was exiting the locker room and headed onto the court for its final warm-up before facing Louisiana Tech in a quarterfinal game.
The Lady Raiders never made it onto the court.
"We were walking out and just about to reach the arena floor when a referee stopped us and said the tournament had been cancelled," Savage said. "That was the first we had heard of it. The players had to inform the coaches of what the ref had said because no one had said anything to them. The chain of command there was kind of sketchy."
Following the lead of professional sports across the board and men's and women's conference basketball tournaments nationwide, C-USA officials had decided to cancel the remainder of the C-USA Championship due to the dangers associated with the Coronavirus.
Savage had been part of some devastating losses during her career but nothing was more overwhelming than the manner in which her college career was halted.
The news hit all of the players and coaches hard but it had the most dramatic impact on Savage, who was putting the finishing touches on a brilliant breakout senior campaign. She had scored a career-high 27 points to go with 13 rebounds in her last game, a riveting comeback win at Charlotte in what would become her last game.
"It is still pretty difficult to accept," Savage said. "It hit me really hard. There was nothing we could do as a team to guard against what happened. It's not like your career ended because of a loss and there was a chance to do something different that could have changed the outcome. Everything was snatched away in one moment."
Lady Raider Head Coach Rick Insell said the news – as well as the manner in which it was delivered – stunned the locker room.
"It was very difficult. The players were upset and they were all crying," Insell said. "Talking to them that day was probably the second-toughest thing I've had to do as head coach of the Lady Raiders. It was a very emotional time."
It was tough for everyone; however, Insell said the thought of how Savage's career ended was most difficult.
"I hurt for our players, coaches, our fans, just the whole program, but I really hurt for Charity Savage," Insell said. "She was our only senior. She was such a great leader and inspiration for our team all season. She was really focused on leading our team to a championship in her last season and, just like that, it was over. There's nothing you can do about it. We all agree with well-being of the student-athletes is most important but it doesn't soften the blow."
In the blink of an eye an outstanding senior campaign was cut short but what a curtain call it was.
Savage was one of only three players in C-USA to average a double-double with 10.9 points and 11.3 rebounds per game. She was named second team All C-USA.
Hers was a story of persistence and perseverance.
Through her first three seasons Savage averaged 5.7 minutes, 1.9 points and 1.3 rebounds per game with no double-doubles.
That all changed in 2019-20 when Savage collected 12 double-doubles which was 40th nationally. She was one of the nation's top rebounders, ranking sixth for total rebounds (339), seventh for offensive rebounds per game (4.4) and 12th for rebounds per game (11.3).
Savage capped her shortened career fifth on the single-season rebounds list. She turned in two of the nation's top rebounding efforts with 25 against North Texas and 22 against TCU.
The end was hard-hitting for Savage but it won't overshadow her sensational season.
"I think one of the toughest things for me is that I was actually being counted on for this tournament," Savage said. "I had been with the team for three of them but this one was different for me because I was going to play an important role. It was a tough way for everything to end but it will not overshadow my senior season or my career at Middle Tennessee."