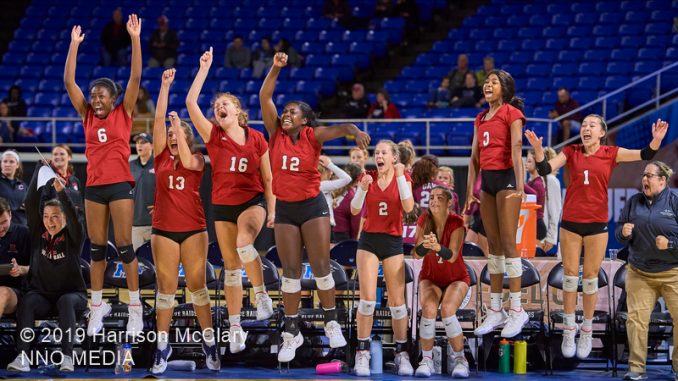 Harrison McClary/N&O
Ravenwood faced Cookeville in the first round of loser's bracket. They prevailed in a heart-stopping match, going into extra points in five sets, winning the last set 20-18.
The Raptors played a close first set, winning 27-25. The in the second set Cookeville easily downed the Raptors 25-18. Ravenwood returned the favor in set three winning 25-16, then lost set four 24-19.
The fifth set started looking like the Raptors would be going home soon. They trailed most of the set, at one point were down 13-9. They rallied and tied the score at 14. Each time they would tie the score Cookeville would pull ahead by one. Finally, at 18 the Raptors scored the go ahead point followed quickly by the winning score for a final of 20-18.
Ravenwood plays Collierville Wednesday morning at 10:00 am at MTSU's Murphy Center.
[Best_Wordpress_Gallery id="14″ gal_title="Ravenwood_2″]