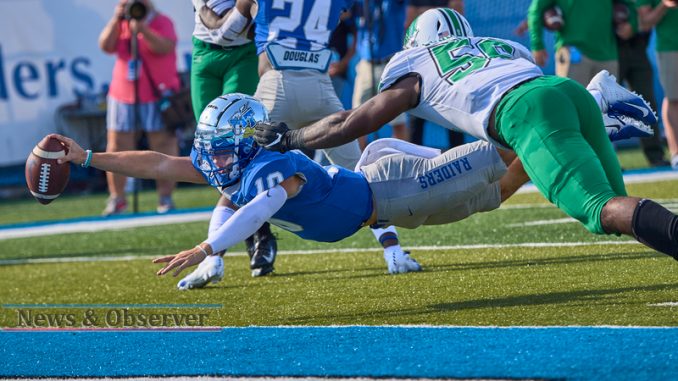 Harrison McClary/N&O
In their 24-13 win over Marshall, MTSU showed that all you need at games end is more points on the board, all other stats mean nothing. 
Marshall out rushed, out passed, and possessed the ball longer than Middle Tennessee, but all of their offense did not result in points. Safety Jovante Moffatt talked about stopping the Herd in the red zone "On a lot of those fourth down stops, we knew that they had certain packages that they would go into to build some yardage in the run game. In those situations Coach Shafer called the defense and we executed."
Middle quarterback Asher O'Hara passed for 261 yards completing 17 of 30 and one touchdown. He also was the team's leading rusher with 76 net yards and one touchdown. "He is a walking highlight. He knows how to keep plays alive. He knows how to keep drives alive. He'll turn nothing into something. As a quarterback, he's got to know a lot of things, and knowing that and doing what he does, it's just spectacular and it's a blessing to have a quarterback like Asher O'Hara." Jarrin Price, wide receiver describing Asher O'hara.
​"It's just a testament to the toughness of this team. We talked all week and before the game about the toughness it was going to take to play this game today. It was hot, we're down a few people, and guys were going to have to step-up. I just can't talk enough about the resiliency, the competitiveness, the toughness of this team because we showed a tremendous amount of guts today coming in here as an underdog. After going through what we've gone through in the first month of the season and to come out there and compete the way we did, with the toughness and the passion that we had, I'm really proud of this football team." Coach Rick Stockstill on the win.
Middle improved to 2-3 overall and is 1-0 in their conference.
Middle faces Florida Atlantic in Boca Raton, Florida next Saturday.