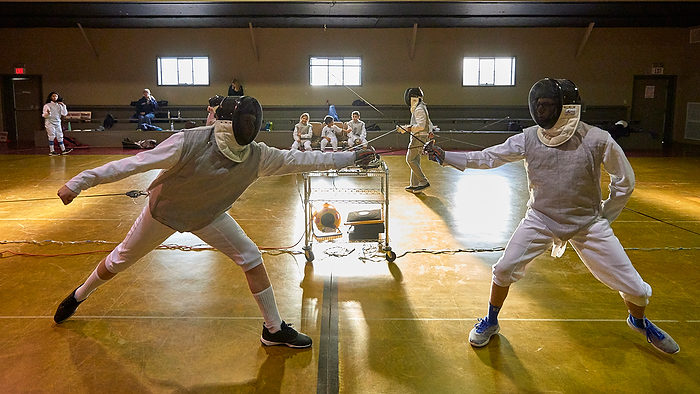 Harrison McClary
News & Observer
On a cloudy, cold February afternoon 13 students arrive at the Historic Nolensville School to learn the sport of fencing. The students take their places on the old basketball court, wired into their uniforms and face each other in the ancient sport.
With the late afternoon light streaming through the windows their foils whisper through the air as the students attack and retreat, attempting to deflect their opponents blows. When they fail the scoring machine buzzes, the uniforms have wires connected to scoring machines that register the touches. Once the match is done they face each other, guards down, shake hands and move from the court.
Turki and WejDan Alanazi started the Saif Fencing Academy in October of 2018. The couple immigrated to America from Saudi Arabia and settled in the Nolensville area to teach fencing, noticing that there were no fencing clubs in this fast growing community. Both Turki and WejDan competed on the Saudi National Fencing Team.
Turki started fencing at eight years old, learning in the King Faisal Air Base sports hall in Tabuk, Saudi Arabia. By the time he was 12 he had moved to Riyadh and was a member of the national team. In 2005 he became the coach of the Saudi team, and later the Technical Director of the Saudi Fencing Federation.
Turki's coaching brought him to America to train athletes in several different cities. As he traveled across America he knew he wanted to come here to live. He saw opportunity in the Nashville area for a school. Now he uses his years of experience to spread the love of his sport to new fans far away from his homeland.
Saif Fencing Academy can be found on-line at:
facebook.com/SaifFencing
Photos can be purchased from here.